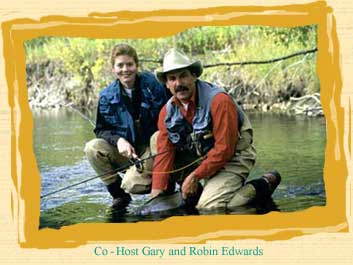 Gary Edwards started fly-fishing in 1966 on the famous Beaverkill River in the Catskill region of upstate New York. His love of fly-fishing continued to grow after moving to Laramie, WY shortly after high school.
In 1986 he and his wife, Robin, moved to the Lake Ontario region of NY where they built the Wild River Inn, a fishing lodge and guide service catering to fly fishers from around the world who came to the area in search of trophy brown trout, rainbows, steelhead, and salmon. In 1988, Gary set an I.G.F.A. World Record on a fly rod when he landed a 22lb. 9oz. Chinook salmon on 2lb. test tippet. He also became a member of the Outdoor Writer's Association of America (O.W.A.A.). Gary's fishing exploits have been featured in Outdoor Life, Sports Afield, Field & Stream, over 9 nationwide TV shows, and countless regional publications.
Currently, they are producing and hosting "Vacations on the Fly" which helps other couples and families plan great vacation getaways that include some of the best fly-fishing opportunities in the world. It is only since beginning the work with PBS that Robin has ventured into the actual sport of fly-fishing. Her first lesson was with the queen of fly-fishing, Joan Wulff. In the course of hosting "Vacations on the Fly" she has continued to learn from some of the best fly-fishing instructors and guides across the country and around the world. They are living on the Chesapeake Bay in Virginia, where they enjoy exploring the many coves and inlets along the shore, in search of new secret spots for the best in saltwater fly fishing.



ABOUT THE PRODUCTION...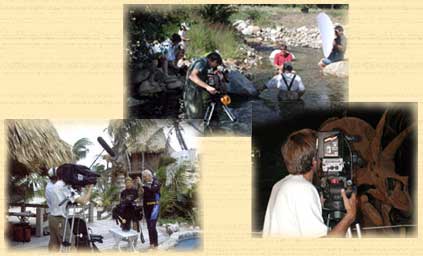 "Vacations on the Fly" is a nationally syndicated 13-episode series that is distributed by NETA (National Educational Tele-Communications Association) and airs throughout the Public Broadcast System (PBS).
It is a co-production of TPI Productions and WHRO TV (Norfolk, VA). WHRO provides education and entertainment through public broadcasting on WHRO TV 15, 89.5 FM and 90.3 FM, as well as through educational initiatives and telecommunications services. Find out more about WHRO on the web at
www.whro.org.