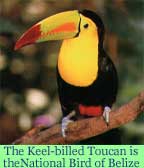 Belize is a wonderfully diverse country. The history and culture continue to unfold. Excavation and reconstructive work is being carried out at the many Mayan ceremonial sites, revealing an amazing glimpse of the past, while modern cities are growing and expanding. All to the delight of the increasing number of tourists discovering this place.

Getting to Belize is easy, with commercial flights arriving in Belize City several times a day. International travelers will need to bring a passport to get through immigration. From the mainland you can hop over to Ambergris Caye, a quick 25-minute flight, to experience a tropical island getaway. Check out Tropic Air for that breathtaking flight.

Once on the island you'll be struck by the relaxed, friendly atmosphere. The coconut palms lining the beach, the streets of sand, and the tropical breeze are just excuses for going there. The reasons include the variety of things to do. Take a resort scuba course, try windsurfing, swim with the rays and angelfish, hire a guide to explore the mangroves for bonefish or manatees, or just stretch out on a hammock for the afternoon. Make your reservations early. Check the currency exchange, which is currently $1 American to $2 Belizean.

There's a wide range of options for lodging and meals. Choose a beachfront resort to pamper your needs or take a more frugal approach and stay at one of the locally owned motels. If you like fresh seafood, this is the place for you. There are a number of restaurants that will prepare your "catch of the day" if you ask ahead. Enjoy a night out for some great Mexican cuisine, or grab a quick meal from one of the local street vendors. These are all priced accordingly, so there is something for every budget.

Here are a few things to remember while planning your trip to Ambergris Caye. This is not a fancy vacation destination. The islands' motto is "No shirt, No shoes...No Problem!" Feel free to bring your nicest sundress or Bermuda shorts, but be sure to pack plenty of T-shirts and sandals. Also, be aware that they want to preserve their resources. Don't try bringing home any coral or Mayan artifacts, or anything made from a turtle! Leave it in its place...come back and enjoy!