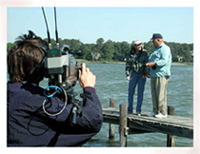 Take sailing lessons on the Rappahannock, one of the great rivers that feed the Chesapeake Bay in Virginia. Learn some tips for catching croaker and spring stripers from a local legend and guide, Hank Norton. For a bit of nostalgia, we'll talk to a longtime boat builder who remembers what life along the Chesapeake meant for a hardworking youngster, who loved every minute of it! Finally, learn a simple yet delicious recipe for preparing steamed clams.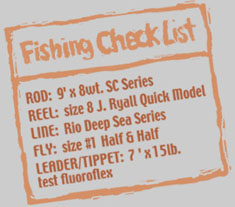 Robin and I both used 9' 8 weight SC Series rods by Thomas and Thomas. The controlled flex power of the SC rods enables them to deliver large wind-resistant flies and heavy bodied streamers with minimum effort.
Our reels were Ryall Quick Series in a size 8. The Quick Series has a larger arbor than most reels, which works well when you have to retrieve your line in a hurry, for instance, when a striper is running toward the boat!
For line, I used a Deep Sea Series sinking line designed by the Rio Company. The Deep Sea series comes in a variety of sinking weights, from 200 grain to 700 grain. Since I was looking for fish a few feet under the surface I used a 400-grain, which sinks about 8 inches per second. My fly of choice was a weighted Half and Half, so named for being half Clouser minnow with weighted eyes, and half Lefty's Deceiver. It's a great fly for stripers.
Robin was looking for stripers on the surface, so she was casting a floating line and a light colored popper fly. Both worked well. Last but not least we were both using 7' 15 pound test Fluoroflex leaders.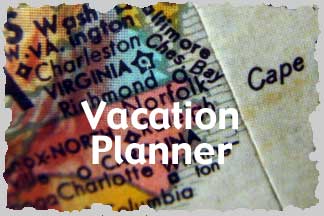 PRIME TIME: April - November
GETTING THERE: 1.5 hour drive from Richmond or Norfolk airports
ACCOMMODATIONS/MEALS: B&B's, Campgrounds, small motels, local restaurants
THINGS TO DO: Sailing, water sports, bird-watching, historical tours, fishing
DON'T FORGET: binoculars, light raingear
By definition a delta is a deposit of land at the mouth of an inlet or river, caused by tidal currents. Being flanked by two beautiful rivers, the Rappahannock and the Piankatank, and influenced so definitely by the tides of the Chesapeake Bay, Deltaville is fittingly named.
This small town, located on the coast directly east of Richmond, enjoys a wonderful mild climate for most of the year. From April through November visitors can count on pleasant temperatures and a good amount of sunshine. Deltaville is just over 60 miles from both Richmond and Norfolk International Airports. The short drive will take you near historic Williamsburg, a favorite vacation destination of over 4 million visitors each year. You won't find those crowds in Deltaville however. What you will find is a number of delightful Bed & Breakfasts and locally owned restaurants and a friendly, small-town atmosphere.
The "shopping district" in Deltaville consists of a few gift shops, worth visiting for sure to get a dose of unique nautical treasures. More than anything else, though, Deltaville is a boater's paradise. There are marinas, yachting centers and boating associations at seemingly every turn. If you're new to boating or sailing take advantage of one of the businesses that offer sailing lessons on the Bay.
You can rent kayaks and cruise the coves and inlets. Along the way keep an eye out for great blue herons, ospreys, wild turkeys, hawks, and bald eagles. Deltaville is located on the Atlantic Flyway, a major route for migrating birds. So bring your binoculars. In addition, of course, don't forget your fly rod. There's always something migrating through the waters of the Chesapeake Bay.



RECOMMENDED LODGING:


Sanderling House Bed & Breakfast and Marina
HCR 01 box 294B
Deltaville, VA 23043
(804) 776-0970
A relaxed home away from home atmosphere...contact Jill or Don Walters

Rivah Fox Bed & Breakfast
PO Box 283
Deltaville, VA 23043
(804) 776-7885
The Rivah Fox is located in a quiet spot on Jackson Creek and includes dock
privileges...contact Betty or Sam Butler



RECOMMENDED DINING


The Galley
Route 33
Deltaville, VA 23043
(804) 776-6040
Offering a quiet atmosphere and good food

The Sweet Shoppe
Route 33
Deltaville, VA 23043
(804) 776-7021
A local gathering spot for breakfast and lunch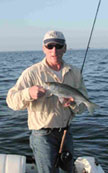 RECOMMENDED GUIDE SERVICE


Captain Hank Norton
PO Box 699
Deltaville, VA 23043
(804) 776-6807
Hank has been fly fishing this area for over 40 years and knows these waters like the back of his hand. Trips are available mid-April through mid-December. Species include striped bass, gray trout, speckled trout, bluefish, flounder, redfish, croaker, and Spanish mackerel.


RECOMMENDED READING
Forgotten Beacons,"The Lost Lighthouses of the Chesapeake Bay" by Hornberger
& Turbyville.


ACTIVITIES
Norton's Marina and Sailing School
(804) 776-9211
www.nortonyachts.com

Nauti Nell's
Route 33
Deltaville, VA 23043
(804) 776-9811
Offering unique nautical gifts, jewelry and collectibles as well as an
extensive book collection

Latitudes
Route 33
Deltaville, VA 23043
Stop in for gifts, hand-made small furnishings, or a sample of gourmet
coffee

For more Deltaville information go to: www.deltavilleva.com

Colonial Williamsburg, Jamestown Settlement, Busch Gardens and more are just an hour away. They make great day trips.