The Chesapeake Bay is a truly diverse eco system that offers equally diverse vacation opportunities. It can be enjoyed year round, depending on what you want to do. Winter is a perfect time to enjoy bird watching, as many species of song birds and water fowl make their winter home along the Bays 8000 miles of shoreline.
For fishing, sailing, and crabbing, you'll want to visit from April through November. A variety of fish either live in the Bay or travel through on their annual migration runs. Crabbing season begins April 1st and runs through November. So whether you want to catch your own or buy them from a local vendor, it's the prime time for fresh crabs.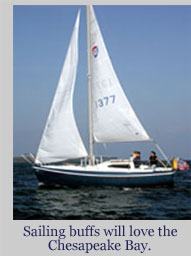 Sailing is best in the spring and fall, as the winds tend to be more favorable during those times. Getting to the Bay is easy. You can fly into Norfolk, Newport News, or Richmond then rent a car. If you prefer an old fashioned road trip, the entire Bay area is easily accessible by car.
Depending on your preference for lodging you have everything from the big chain hotels to a variety of small, locally-owned motels and Bed and Breakfasts to choose from. It just depends on whether you want an urban or rural setting.
When it comes to dining, what can I say - it's seafood! And crab is king!
General Information on Mathews
Mathews County Visitor and Information Center
www.visitmathews.com

Recommended Lodging & Dining
The Inn at Tabb's Creek Landing
Port Haywood, VA
804-725-5316
http://www.innattabbscreek.com

Southwind Café
Mathews Historic Courthouse District
804-725-2766
Specialty pizzas, sandwiches, and salads compliment the homemade desserts.

Things to see and do
The New Point Comfort Lighthouse is an amazing historic site you should explore. Check out the website at
www.newpointcomfort.com

Bring your bicycle, or rent one, and enjoy the beautiful scenery of the County. The Nature Conservancy has set aside a portion of marshland to observe the abundant waterfowl and other creatures that inhabit this tidal area.

Mathews County is rural America at its best. But remember, it's just a short drive from many popular Virginia attractions, such as Colonial Williamsburg, Busch Gardens, Virginia Beach, and more!