Northeast Montana is truly a unique area offering a variety of activities for the outdoor enthusiast.
Prime time to visit would be from June 1st to Oct. 1st, when temperatures will generally run in the mid 70's to mid 90's during the day and drop comfortably in the evening.
Getting there is easy. If you enjoy driving, the Glasgow/Ft. Peck areas are not far off Interstate 94. All the secondary roads are wide open with few turns and even fewer vehicles. Glasgow also has a small airport for private planes and is serviced commercially. If you really want an adventure you can travel by train.
Lodging choices are varied. There is a good selection of small, comfortable motels, a few Bed & Breakfasts, a couple of larger independently owned motels, and a number of nice campgrounds.
Dining out in the area includes a wide assortment of independently owned cafes and restaurants with a few fast food places thrown in for good measure.
When it comes to things to do the list is long and varied, especially for visitors that enjoy the outdoors. The topography of NE Montana is rolling prairies and plains with huge vistas. If you visit you'll soon figure out why Montana is called Big Sky Country. The gentle terrain makes for great biking and hiking. And with a lake that's 130 miles long there are water sports of all kinds to be enjoyed; boating, water-skiing, windsurfing, sailing, and of course fishing!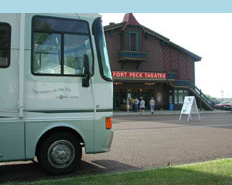 A tour of the power plant, the pioneer museum, and the Fort Peck Theatre are all must do's when visiting NE Montana. Don't forget to bring your camera and lots of film. Also drink lots
of water to keep up with the dry
climate. And be sure to wear sunscreen
at all times.
GENERAL INFORMATION

To order your FREE Montana Vacation Planner, call 800 847-4868 or visit us on line at
www.visitmt.com


For more information about Glasgow / Fort Peck, call 800 653-1319 or visit us on line at
www.missouririver.visitmt.com"
Recommended Lodging:
Cottonwood Inn
45 1st. Ave. N.E.
P.O. Box 1240
Glasgow, MT. 59230
(800) 321-8213
cwinn@nemontel.net

Recommended Dining:
Prairie Rose Restaurant
45 1st Ave N.E.
P.O. Box 1240
Glasgow, MT. 59230
(800) 321-8213
cwinn@nemontel.net

Sams Supper Club
307 1st Ave. N.
Glasgow, MT. 59230
(406) 228-4614

Area Attractions & Information:
Glasgow Chamber of Commerce
(877) 228-2223
www.nemontel.net/~chamber
e-mail: chamber@nemontel.net

Pioneer Museum
US Highway 2
Glasgow, MT. 59230
(406) 228-8692

Fort Peck Power Plant
P.O. Box 208
Fort Peck, MT. 59223
(406) 526-3411

Guide Service for Fort Peck Reservoir:
Sioux Pass Outfitters
Scott Sundheim
(406) 798-3474

Fort Peck Summer Theater
(406) 526-9943