The best time to enjoy the city of Great Falls and its surroundings is during the milder weather, from June 15th to October 15th. Like any Rocky Mountain state, weather conditions are quite changeable, so stay alert.
The Great Falls International Airport services a number of major airlines. If you choose to drive, you will find easy access on major interstates, from all directions. Just check your road atlas.
The city of nearly 60,000 residents hosts major restaurant and hotel chains. Camping, Bed & Breakfasts, and Dude ranches are also available, depending on your preference.
Whatever you choose, be sure to get a good nights' sleep to tackle the days events. Whether you hear the call of the w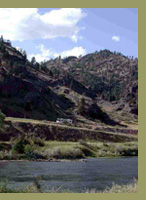 ild and are looking for great outdoor activities, or you plan to visit one of the many museums or cultural centers you won't lack for things to do. Contact the local Great Falls Chamber of Commerce for more ideas than you'll know what to do with.
The Ulm Pishkun Buffalo Jump Interpretive Center outside of Great Falls is an interesting side trip. Take a tour of the Center and learn the importance of the site. Then drive up to the jump and get a breathtaking view of the vast prairie.
Remember to hitch up your mountain bike or throw in a good pair of walking shoes. Great Falls maintains a hiking and biking trail through town that follows the Missouri River. Also, before you make your trip, we suggest brushing up on your history of Lewis and Clark and the Corps of Discovery. It will enrich your experience.
GENERAL INFORMATION
For a FREE Montana Vacation Guide call "Travel Montana" at 800-847-4868
www.visitmt.com

For more information about Great Falls and the surrounding area, call the Russel Country Chamber of Commerce at 800 527-5348 or visit us on line at www.russell.visitmt.com

Great Falls Chamber of Commerce
406-761-4434
www.greatfallscvb.visitmt.com

RECOMMENDED GUIDE SERVICE
Central Montana Outfitters
406-799-7984
http://www.centralmontanaoutfitters.com/
They offer outstanding guide services for both fly fishing and hunting trips. Our trip on the Missouri River was most memorable and some of the best days of fishing we've enjoyed. In a nutshell, the scenery, fishing, and camaraderie were unsurpassed!

RECOMMENDED DINING
Borries Restaurant
406-761-0300
Borries is technically located in the town of Black Eagle, just across the
Missouri River from Great Falls. You can sum up the food in a few words;
Great Big Steaks!

THINGS TO DO
Great Falls has a lot of interesting things to see and do. Here are just a
few. For complete details call the Chamber of Commerce at 406-761-4434.

The Charles Russell Art Gallery and Museum
406-727-8787
You can tour Russell's home and workshop and see the largest collection of
his work under one roof.


The Lewis & Clark Interpretive Center
406-727-8733
The Center is located on a hill overlooking the first of 5 falls that
challenged Lewis & Clark in the search for an all water passage to the west.
The Center has a great collection of artifacts, as well as many hands-on
activities for kids.

The Ulm Pishkun Buffalo Jump Interpretive Center
406-866-2217; Connie Jacobs, Park Manager
email: pishkun@initco.net
The Ulm Pishkun Visitor Center tells the story of the buffalo and what we
know of the people who shared its world. View the rich exhibit, hear
stories, and learn more about the archaeology and history of this remarkable
place. Outside, hike the interpretive trails, view a prairie dog town, and
explore the cliffs just as the ancient people did.

Hiking, biking, canoeing, and wildlife watching, are all available in and
around Great Falls!