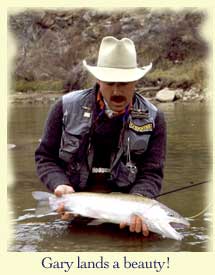 Learn to think like a fish on this episode of "Vacations on the Fly." Entice rainbow trout while float tubing on a picturesque Laramie, Wyoming lake. Visit the University of Wyoming to find out more about this state's prehistoric past. Then venture out to a work in progress - a stream restoration project with the goal of becoming a trout condo! Discover what trout consider "all the comforts of home."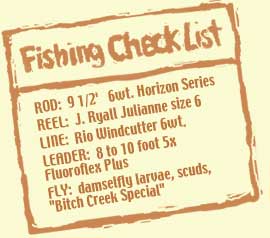 While fishing on the lake Robin and I are used 9 1/2 foot 6-weight Horizon Series rods. The fast action of the rods helped us lift long sections of line off the water and lay it back out with minimal effort. The extra 6
inches of length was especially helpful when casting from a tube. It also helped make roll casting easier.
For reels, we used the Julianne Model by the J. Ryall Company. It's pretty difficult to not get your reel wet when fishing from a tube, so it's important to use a reel that will still work well even when it's been soaked.
For line we used traditional intermediate sinking lines as well as clear lines. Both worked well at presenting our flies just under the surface, where the trout tended to be feeding on aquatic insects and shrimp.
Our leaders were 8 to 10 feet long, 5x fluorocarbon. For flies we used a mix of damselflies, scuds, and the Bitch Creek Special, a fly that a local Laramie banker told me about years ago.
There is something special about a town where your banker can offer you both
fiscal and fishing tips!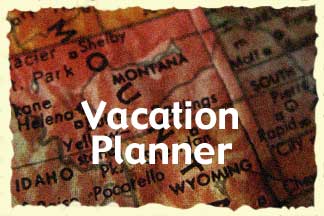 PRIME TIME: June 15 through September 15
GETTING THERE: Regional airport in Laramie, Denver Int'l. is just over two hours. Interstate 80 goes right through Laramie
LODGING & DINING: Many large chain motels, a few B&B's and dude ranches. Many chain restaurants, lots of local restaurants and cafés
ACTIVITIES: Rock climbing, hiking, biking, fishing, horseback riding, rodeo's, and more. Historical museums, art galleries, Dinosaur museum, wildlife watching, camping, shopping.
THINGS TO REMEMBER: High altitude in town (over 7000 feet) and mountains (over 11500), drink lots of water for dry climate, wear sunscreen at all times, be ready for sudden weather changes, bring a wildflower reference book, bugspray for July.
Laramie, WY has a wonderful summer season. Prime time would be from July1st through September 15th. Fall comes early and is usually pretty short-lived. For those that like cold, windy but sunny weather, Laramie provides an ample supply from November through April.
There are a lot of wide-o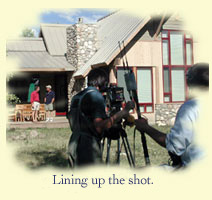 pen spaces and beautiful mountains to explore, so we suggest having either your own vehicle or renting one from a car rental agency. If you drive, you will want to end up on Interstate 80 which runs right through Laramie. Flying to Denver and driving north will afford you some amazing scenery, so plan that trip for daylight hours. If you choose, you can take a commuter right into the Albany County Airport.
Lodging choices vary from the Holiday Inn to top-rated dude ranches and every thing in between. Laramie also offers great dining diversity. From chain restaurants to locally owned vegetarian bistros, you'll find something to enjoy.
Being a western state requires that there are plenty of outdoor activities. Laramie is no exception. For those that enjoy the outdoors, especially hiking and rock climbing, Laramie is a great base of operation to take short day trips. Summer weekends will usually mean there is a rodeo taking place at the county fairgrounds. If you get tired of the outdoors, step inside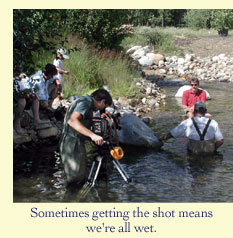 one of the interesting museums or galleries. Or stroll down the streets of Old-Town and find some unique gifts and souvenirs.
A few other things to remember...The altitude of Laramie is over 7000 feet, so you may need a day or so to adjust. If you venture into the mountains, be aware that they will take you to about 12000 feet. Consult your doctor if you have any health concerns. Also, drink plenty of water to compensate for the dry climate and wear a good sunscreen. And when you're packing your suitcase, throw in a western wild-flower reference guide. You can find one at any bookstore.

General Information on Wyoming
Wyoming Tourism
For a FREE Vacation Planner, call or visit us online!
800-225-5996
www.wyomingtourism.org

Laramie Information
Albany County Tourism Board
210 Custer Street
Laramie, WY 82070
800-445-5303
www.laramie-tourism.org
email: actb@lariat.org


Recommended Lodging & Dining
Motel 8
Downtown Laramie
Reservation line: 888-362-8200

The Old Corral Hotel & Steakhouse
2750 Scenic Byway 130
Centennial, WY 82055
www.oldcorral.com
The Old Corral is a great place for a relaxing meal and good nights' sleep. Just a short drive west of Laramie, you'll find yourself immersed in the smell of pines and the sounds of trickling Rocky Mountain streams when you make a reservation at this landmark hotel and restaurant.

Lovejoy's Bar & Grill
101 Grand Avenue
Laramie, WY 82070
307-745-0141
email: lovejoys@vcn.com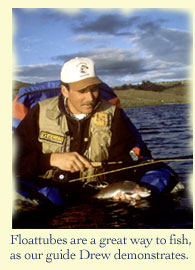 This is just one of the many unique cafés and bistros that Laramie has to offer. Have a bite to eat and then take a stroll through Laramie's original business district.

Recommended Guide Service
Wyoming Fly Fishing Connection
Drew Kelley
800-347-4775

Drew knows this part of Wyoming like the back of his hand! You'll enjoy the instruction and camaraderie of a day spent on the streams or lakes. Ask him about his other guided trips to exotic destinations worldwide!

Things to see and do
Visit the University of Wyoming Geological Museum for a quick lesson in prehistory. Dinosaur displays will thrill the kids on this self-guided tour through the past. Call to be sure of the hours of operation:
307-766-2646
or visit the website at
www.uwyo.edu/geomuseum

Vedauwoo (pronounced vee' da voo) is a rock climbers paradise! The unusual formations are a popular attraction to climbers, picnickers, and photographers alike. Hike the trails, take a nap in the shade, or camp under the stars in this easily accessible park. Call Albany County Tourism (see above) for a FREE visitors guide.

The Wyoming Territorial Park is a wonderful multi-faceted attraction. Re-enactments are performed throughout the day to bring to life the legends of the Old West. Stroll the boardwalk of a western Main Street, get your picture taken in period costume, belly-up to the bar for a cold sarsaparilla, and more! Also, well worth seeing is the US Marshall's Museum. You'll be amazed at the collection of authentic Marshall's badges, six-shooters, clothing, etc. To end the day, reserve a seat at the Dinner Theatre. Sit back and be entertained in true western hospitality style! Call Albany County Tourism (see above) for a FREE visitors guide