Recommended Lodging: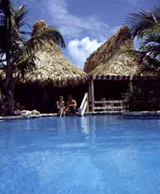 Ramon's Village Resort
PO Box 4407
Laurel, MS 39441
USA
Phone: 1-800-MAGIC-15
www.ramons.com
e-mail: info@ramons.com
Ramon's is one of those special places where dreams come true! Whether it's diving along the 2nd largest coral reef in the world, reading a book under a palm tree, angling for world-class fish or enjoying dinner beneath a full moon with the sound of the Caribbean just a few feet away, Ramon's is the place to experience it all.
Recommended Dining:
Ramon's Village (see above)

Elvi's Kitchen
PO Box 3
Pescador Drive
San Pedro
Ambergris Caye, Belize
Phone: 026-2176-2404
www.ambergriscaye.com/elvis/html
Recommended Domestic Airline in Belize
Tropic Air
1-800-422-3435
www.tropicair.com
email: tropicair@btl.net
General Information on Ambergris Caye
www.ambergriscaye.com
This site has a wealth of information!
Recommended Reading
"Belize; Land of the Free by the Carib Sea"
author: Thor "Bushman" Janson
ISBN#: 84-89766-58-4
Things To See And Do
Snorkeling or scuba diving: Belize is home to the second largest barrier reef in the world which draws an endless variety of aquatic life. The water clarity allows a diver to see up to 150 feet, depending on the conditions. No experience is necessary, as there are many local dive shops that offer courses. Jacques Cousteau's famous Blue Hole is a day trip available from Ambergris Caye, an experience you will not soon forget.
World-class fishing for tarpon, bonefish, and permit: There are endless miles of shallow water flats and mangroves along the coast of Belize. It's an anglers' paradise, offering fishing opportunities year 'round. The rivers of mainland Belize are another option for anglers as well.
Maya Ruins: Whether you're a history buff or not, you will enjoy taking one of the Discovery tours of the Maya sites. Watch as the excavation continues, revealing the past before your eyes. Arranging a day trip is easy. Most hotels can make the reservations for you on relatively short notice.