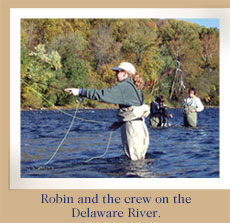 Take a trip to historic New Hope, Pennsylvania. Enjoy the quaint setting of Peddler's Village and shop 'til you drop. Join us for a steam train ride through the past and take in the fall colors. Then hop on a canal barge pulled by a team of mules that know every inch of the towpath. Finally, try your hand at a Delaware River smallmouth bass. This is a place you'll want to visit over and over again.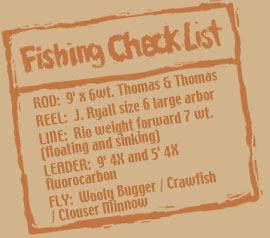 Fishing for bass on the Delaware River, Robin and I were casting 9 foot six weight fast action rods. Fast action means that the rods are quite stiff, which helps deliver the flies with less casting effort. The combination of big water, fairly strong wind, and large flies necessitated this type of rod.
Our reels were size 6 large arbor, designed to help retrieve line quickly.
For line and leader we used two different setups. Part of the time we were casting 7-weight floating lines with a 9 foot leader tapered to 4X. This combination worked well in slow, shallow water and at the tail end of pools.
To get our flies deeper, we switched to a 400 grain sinking line and shortened our leaders to 5 feet tapered to 4X. The shorter leader combined with the sinking line was great for fishing pockets and the faster water at the head of pools.
For flies, we rotated between Wooly Buggers, crawfish flies and Clouser minnows in a variety of colors, ranging from black, brown and olive to chartreuse and white.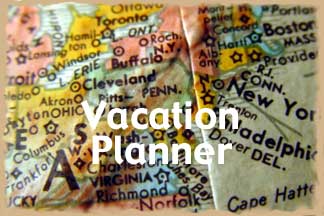 PRIME TIME: April 15th through October 31st

GETTING THERE: I-95, Phila. Int'l. Airport, Amtrak

LODGING & DINING: Historic hotels and restaurants

ACTIVITIES: Antiquing, fishing, shopping, museums, parks

THINGS TO REMEMBER: good walking shoes, brush up on early American history

Located just 25 miles outside of Philadelphia, the New Hope area is like another world. The quaint village and important historical significance give visitors a break from their normal routine. Since much of the town can be enjoyed by strolling the sidewalks, planning your trip from late spring through early fall is ideal.
It's easy to get to the New Hope, Bucks County area. Fly into Philadelphia International, take the Amtrak into Trenton, Phila, or other nearby stops, and then rent a car to drive through the beautiful winding country roads.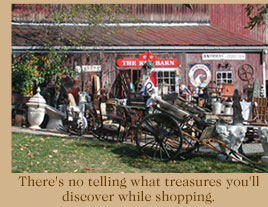 Upon your arrival you'll be amazed at the number of choices for fine lodging and dining. Both New Hope and Peddler's Village are designed to fill the needs of tourists, from comfortable accommodations to gourmet dining along the Delaware River.
The streets are lined with distinctive shops, interesting attractions, and friendly people. The landscape is classic eastern rolling hills dotted with farms and wineries, making for memorable driving tours.
A trip to Bucks County is both enjoyable and educational. There are state parks, national historic sites, museums, and galleries that are sure to round out your trip.
We barely scratched the surface of this wonderful place and look forward to visiting again soon!



General Information on Bucks County
Bucks County Conference & Visitors Bureau
800-836-BUCKS
www.visitbuckscounty.com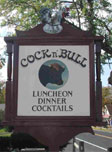 Peddler's Village
www.peddlersvillage.com

New Hope
www.newhopepa.com

Recommended Lodging & Dining
Golden Plough Inn
Route 202 & Street Road
Lahaska, PA 18931
215-794-4004
www.goldenploughinn.com
Luxurious accommodations and wonderful service is what you will find at the
Golden Plough Inn. Located in the heart of Peddler's Village, you will
enjoy the convenience and quality of your stay.

Jenny's Bistro
Route 202 and Street Road
Lahaska, PA 18931
215-794-4020
www.peddlersvillage.com
Enjoy casual or elegant dining at this flavorful restaurant, full of
Victorian charm with French country flair.

Odette's
South River Road
New Hope, PA 18938
215-862-2432
www.odettes.com
Fine riverside dining and fabulous entertainment compliment this historic
restaurant built in 1794. Enjoy the award-winning piano bar or seasonal
weekend cabaret shows!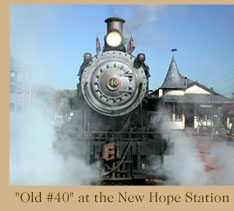 Recommended Guide Service
Brad Sary - Rapids Rover Guide Service
609-499-1385
Enjoy a day spent on the Delaware River with Brad, searching for one of the many species to be found in the prolific waters of this beautiful fishery.

Things to see and do
A trip to New Hope should include the New Hope & Ivyland Railroad. Climb aboard an old steam engine and travel through the scenic hillside. Learn the history of the railroad as well as some interesting little known facts about its location. Check out www.newhoperailroad.com

Another must do is the New Hope Canal Boat Company. A costumed historian will amuse you with anecdotes about life as it was in the 1800's. Period songs and stories will entertain and make your trip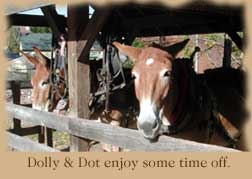 through the historic canal system a memorable one. Go to www.canalboats.com

Washington Crossing Historic Park is just a few minutes drive from New Hope. Relax, hike, picnic, and learn some interesting history, all surrounded by rolling green hillsides.

Bucks County must be the originator of the phrase, "shop 'til you drop!" Enjoy browsing quaint shops and galleries conveniently located near park benches and café tables. Tastefully done, Peddler's Village and New Hope offer almost unlimited possibilities to those that enjoy shopping, and the ones they bring with them!