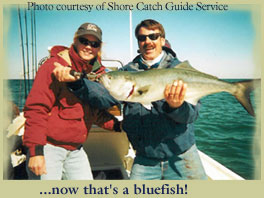 The central New Jersey coast is the backdrop for this vacation. Although the tourists were gone by the time we arrived, we didn't find the shoreline deserted. It was bustling with 4x4's cruising the beaches in search of striped bass and big bluefish. Whether fishing from shore or a boat just outside the breakers you'll love the excitement of saltwater fly fishing. Contrast that excitement with a peaceful stroll through Allaire Village, an historic park that chronicles 19th century life. Then end your day at a beautiful Victorian bed & breakfast.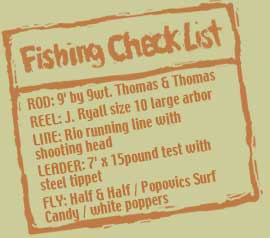 Fishing for bluefish in the open ocean was something new for Robin and I. Our guide, Gene Quigley, suggested we use 9 foot, 9 weight rods with a progressive fast action. The wind on the open water, combined with the large flies and heavy line made the 9 weight rods a logical choice.
Another factor was the size and power of the bluefish we were catching!
We used large arbor quick retrieve size 10 reels.
For line, we used a combination of floating weight-forward 9 weights with poppers, for fish on the surface, and running lines with shooting heads for the fish that were feeding a little deeper.
Bluefish have extremely sharp teeth that can bite through the heaviest monofilament-type line. Therefore, Gene set us up with stainless steel wire tippets connected to our 15-pound test 6-foot leaders. Bluefish aren't bashful when they are on the feed, so the wire tippet doesn't spook them.
For flies, we used a few different things, including Half & Half's, Popovic's Surf Candy, and floating poppers, all in a variety of colors. They each imitate baitfish that the blues feed on.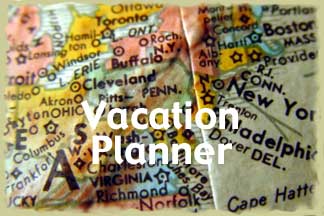 PRIME TIME: June 1 - October 15
GETTING THERE: One hour from Newark Int'l.,
easy interstate access
LODGING & DINING: Bed & Breakfasts, resorts, hotels
ACTIVITIES: lighthouse tours, Allaire Village, State parks, shopping, Victorian home tours
THINGS TO REMEMBER: sunscreen, wind/rain gear, bicycles
The New Jersey shore is most popular from June 1st through mid October. The pleasant we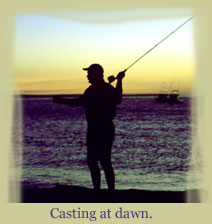 ather brings people to the boardwalks and sandy beaches in large numbers. We chose to visit in later October. The weather was still enjoyable, and the beaches were quiet except for the excitement of successful fishermen casting from shore.
For those specifically interested in fishing, the season extends into December. Be ready to brave some cold temperatures out on the water. However, the excitement of catching migrating fall-run fish is likely to help you forget the cold!
Our vacation took us from Sea Girt to Barnegat Inlet, about a 30-mile span. The general area is about one hour from Newark Int'l. Airport, and about an hour north of Atlantic City. Access to the shore is well marked and not difficult. Parking can be tricky in the height of the summer season, so be sure to pass up any private or restricted zones to avoid getting a parking ticket.
There are many bed & breakfasts and hotels within walking distance of the ocean. If you're planning a trip during the peak season you will have to reserve a room well in advance. However, the views and sea breezes are worth experiencing.
Seafood houses, wonderful ethnic cuisine, and deli's are everywhere. You'll need some long walks on the beach to keep up with the great dining options.
For things to do, you can skip the beach umbrellas and bathing suits, opting for a lighthouse tour instea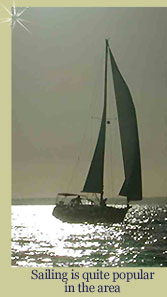 d. Or maybe you would enjoy a visit to an outdoor, living history museum, Historic Allaire Village, just a few miles inland from Sea Girt. Victorian home tours, shopping for antiques, bicycle paths, and aquariums are also in the area.
Don't forget your sunscreen, and not just on sunny days. The haze and clouds don't do much to protect you from sun damage. Bring or rent an umbrella for getting out of the sun while enjoying the beach.


General Information
www.newjerseyshore.com

Recommended Lodging & Dining
The Beacon House
100 & 104 Beacon Blvd.
Sea Girt, NJ 08750
(732) 449-5835
Innkeepers; Candy Kadimik and Alex & Megan Ruiter
www.beaconhouseinn.com
This picturesque Victorian Inn is a Sea Girt landmark. Just one block from the beaches and boardwalk, you'll enjoy the accommodations and friendly service. Breakfast is amazing!

Boathouse Bar & Grill
1309 Main Street
Belmar, NJ 07719
(732) 681-5221
www.boathousebarandgrill.com
Bring a big appetite to this sports bar and grill! The menu is extensive and the service is great. It's a popular place for obvious reasons!

Shady Rest Restaurant
Route 9
Bayville, NJ 08721
(732) 269-0847
Amazing home-made pizza and Italian cuisine. Enjoy a quiet, casual evening at this well-established eatery!

Recommended Guide Service
Shore Catch Guide Service
85 Cowart Avenue,
Manasquan, NJ 08736
www.shorecatch.com
For Beach trips email: jfreda@bytheshore.com
For Boat Charters email: Flyfishcharters@aol.com
Jim Freda, Gene Quigley, and Shell Caris have the knowledge and skill it takes to have a successful day of fly fishing. And you'll thoroughly enjoy the day! Whether you want to spend a day on shore or head offshore on a fully-rigged Parker, they have all the bases covered

Things to see and do
Barnegat lighthouse is a popular attraction in the area.
www.barnegatlight.com
Another lighthouse to visit is the Sea Girt Lighthouse. Call (732) 449-3041
for information.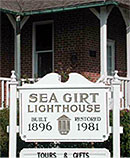 Historic Allaire Village is a great day trip for young and old alike.
PO Box 220
Allaire, NJ 07727
(732) 919-3500
Visit them online at www.allairevillage.org

If you bring or rent bicycles, you can cruise the seaside avenues and stop at one of the Victorian homes open for tours. The architecture and landscaping are beautiful. The area is rich in history, offering opportunities for antique shopping and browsing. When you're finally through exploring the area, just sit back and relax on the beach!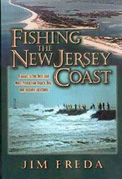 Recommended Reading:
To find out all there is to know about fishing the New Jersey Coast I highly
recommend reading "Fishing the New Jersey Coast," by Jim Freda. It's a
comprehensive guide to a successful fishing trip!