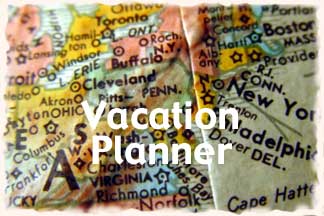 PRIME TIME: June 1st - October 15th
GETTING THERE: Interstate 81; 45 minute drive from Syracuse Int'l Airport
LODGING & DINING: fishing lodges, small motels/hotels, campgrounds, fast food chains, local restaurants
ACTIVITIES: camping, fishing, Hatchery Tour, golfing, antiquing, lighthouse tour
THINGS TO REMEMBER: cleats, wading staff, polarized glasses
Oswego County lies on the eastern edge of Lake Ontario. The closest large airport is Syracuse International, about 40 miles to the south. Interstate 81 brings you right into Pulaski, Oswego County's well-known salmon and steelhead fishery. From the end of May through mid October the weather cooperates with visitors wanting to enjoy the outdoors.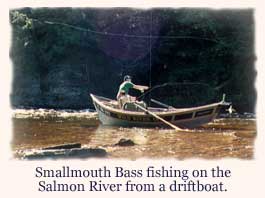 The County offers numerous fishing lodges and small motels. The well-known chain motels are also an option. For campers, New York State maintains a number of lake shore parks and campgrounds. There are also dozens of small privately-owned campgrounds scattered about.
For dining options try a local favorite, Rainbow Shores Restaurant. Rainbow Shores is located on the edge of Lake Ontario. The delicious food and sunset views make a great evening. We suggest skipping the fast food chains and looking for a privately owned diner or restaurant.
For things to do in Oswego County your itinerary should include a tour of the Salmon River Fish Hatchery in Altmar, NY. You will want to call ahead to make sure the fish are running and the Hatchery is in full swing. As a rule, the salmon run in the fall or steelhead in the spring is a very busy time.
In addition to the Hatchery tour, take a tour of the Selkirk Lighthouse in Port Ontario. Go antiquing. Hit one of the golf courses. Enjoy a picnic on the lakeshore. If you love winter activities there's no better place for groomed snowmobile trails and cross country skiing. Of course, your fly rod will come in handy at one of the most exciting fisheries in the country.
Don't forget to practice safe wading in the rivers. The rocks in the Salmon River are unusually slippery. So invest in cleats for the bottom of your boots and use a wading staff. Never wade deeper than mid-thigh. Polarized glasses are also a must to see through the water.
GENERAL INFORMATION
Oswego County Tourism
315-349-8322
www.oswegocounty.com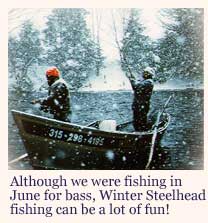 Oswego County is home to at least 10 World Record and 3 State Record catches. Anglers from all over the northeastern United States and Canada are making the trek to Oswego County for its famed trophy fishing. With year-round fishing opportunities and prize winning catches, the waters and tributaries of eastern Great Lake Ontario are an irresistible lure for both veteran and novice anglers. Land your own trophy in Oswego County!

RECOMMENDED LODGING
Tony's Salmon Country
7621 Rome Road
Pulaski, NY 13142
315-298-4104; contact Tony Gugino
http://www.salmoncountryguide.com
Tony's offers a variety of lodging opportunities from small one person rooms to two bedroom suites in a spacious log cabin. Tony's also has a full-service tackle shop with everything you need to get outfitted for a successful fishing trip on Lake Ontario, the Salmon River, or any other area streams.

Lighthouse Marina
Home of the 1838 Selkirk Lighthouse
6 Lake Road
PO Box 228
Pulaski, NY 13142
315-298-6688 / 315-298-6699; contact Jim Walker
www.salmon-river.com
The Lighthouse Marina offers lodging in the restored 1839 Selkirk Lighthouse or cabins. They also have a full service marina for all your boating needs.

RECOMMENDED DINING
Rainbow Shores
Rainbow Shores Drive
Pulaski, NY 13142
315-298-5110

Rainbow Shores is located at the end of a dead end road on a cliff overlooking Lake Ontario. It's the perfect place for a romantic dinner. Whether dining inside or on the garden deck it's an experience you will really enjoy.

RECOMMENDED GUIDE SERVICE
High Adventure Sport fishing
158 Hagen Drive
Pulaski, NY 13142
315-298-2410
www.highadventurefishing.com

Captain Troy Creasy runs a tight ship. Whether fishing aboard his 30 foot lake boat or his river drift boat, you can expect great service and a great fishing experience.

THINGS TO DO:
In addition to great fishing for trophy salmon, steelhead, brown trout, walleye, and bass, the eastern shore area of Lake Ontario is an outdoor enthusiasts dream come true.

Hiking and biking on hundreds of miles of trails along Lake Ontario and further east in the Tug Hill area are just an example. You can canoe or kayak the Salmon River and Lake shoreline. During the winter, outdoor activities switch to winter steelhead fishing, cross country skiing, and snowmobiling, as Oswego County boasts the largest snowfall east of the Rocky Mountains!

A great way to see all the natural beauty is by air. The folks at "The Flight School" (315-598-4482) can set up an aerial tour for you.

A visit to the Salmon River Fish Hatchery is also very interesting. The hatchery is located on the upper end of the Salmon River in the little town of Altmar and is open to the public. For tour info call Fran Verdoliva at 315-298-5051.