General Information on Wyoming
WYOMING TOURISM -
For a FREE Vacation Planner, call or visit us on line
800-225-5996
Saratoga Information
Saratoga Chamber of Commerce
307-326-8855
www.saratoga.org

Recommended Lodging & Dining
The Hotel Wolf
101 E. Bridge Street
Saratoga, WY
307-326-5525
www.virtualcities.com/ons/wy/m/wym4601.htm
This is some of the best food west of the Mississippi!

Recommended Guide Service
Jeff & Sandy Streeter
307-326-8239
Guide service just doesn't get any better than this.
Things to see and do
Saratoga National Fish Hatchery: Self-guided tours are available year round. For a guided or group tour call ahead for reservations (307) 326-5662
Hat Creek Saddlery & Trading Post: 107 W. Bridge Street, Saratoga (307) 326-5755 When you walk through the front door you will feel like you stepped back in time. Bill and Chris Fournier will show you what the well-dressed cowboy & cowgirl wore 100 years ago. They'll help outfit you for a modern day western adventure too. Custom saddles and tack are their specialty. It's a really fun store to visit.
Take a Dip in the Hot Springs: Saratoga was originally named Warm Springs for its natural hot springs. They are open year 'round, 24 hours a day. And they're FREE!
Visit Encampment: This town is located about 15 miles south of Saratoga and has a wonderfully restored Old West town, complete with wooden sidewalks, a general store, and a two-story outhouse! The outhouse is a long story, but you'll just have to see it to understand! Encampment is also home to one of the oldest soda fountains in Wyoming. Stop in for an ice-cream soda!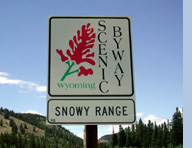 Scenic By-Pass 130: Highway 130, which connects Saratoga with Laramie, traverses the beautiful Snowy Range mountains. It is a drive worth seeing. Mirror Lake and Lake Marie are nestled at the base of massive granite peaks that reach over 12,000 feet in elevation. Deer, elk, moose, and other wildlife abound in this wilderness area. Highway 130 is open from Memorial Day to the first heavy snow, usually mid-October. After that it becomes a snowmobiler's dream come true. Along the way, stop at the Snowy Mountain Lodge for a great meal served up with plenty of Western Hospitality. If you want to sleep among the whispering pines they have cabins to rent. There are also numerous uncrowded campgrounds throughout the Snowy Range area.