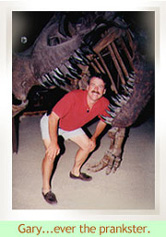 We'll leave a bit of the cowboy out of Wyoming and show you some amazing prehistoric treasures buried in the town of Thermopolis. Dinosaurs in Wyoming? You bet! Discover what's to be found at a real fossil site and follow the bones from their earth-covered tombs to the Wyoming Dinosaur Center display arena. Along with that you'll learn some techniques for successfully fly fishing the Wind River for amazing wild brown trout. Oh, and don't forget to take a dip in the world's largest mineral hot springs.







For our trip down the Wind River Canyon I used a 9' 6wt. Thomas & Thomas rod and Robin used a 9' 5wt. We battled some fairly strong wind, which was magnified inside the canyon. The stiffer, fast-action rods helped punch into the wind and deliver our flies where we wanted them to go. Both rod weights worked for the job at hand. The difference in weight was more a matter of personal preference.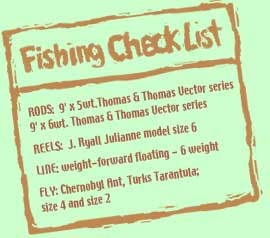 Our reels were made by the J. Ryall Company and we both used the Julianne model. When catching small fish a fly reel is often just something to hold your line. But a few of the fish made us appreciate a reel with a smooth drag system.
A friend of ours, Simon Gawesworth, who just happens to be a world-champion fly caster, recommended that we try a line made by Jim Vincent's Rio Company designed for cutting into the wind. We took Simon's advice and we were glad we did.
Our guide, Darren Calhoun, set us up with some big old flies called Chernobyl Ants. One look at those flies and we knew that any trout that would eat a fly so big and ugly would be a trout worth catching! We also used a Turks Tarantula, another good choice to entice these beautiful browns.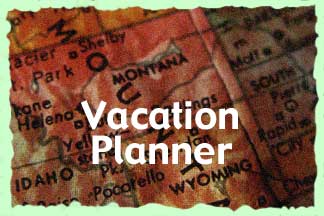 PRIME TIME: June 15 through September 15

GETTING THERE: Private airport, or travel from
Casper, WY airport or Denver International

LODGING & DINING: Chains and private small
motels and restaurants

ACTIVITIES: Rock climbing, hiking, biking, fishing, horseback riding, rodeo's, and more,
historical museums, art galleries, Dinosaur
museum, wildlife watching, camping, shopping

THINGS TO REMEMBER: Drink lots of water for
dry climate, wear sunscreen at all times, be ready for
sudden weather changes, bring a wildflower reference
book, bug spray for July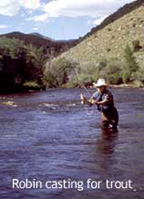 If your idea of temperate weather includes lots of sunshine and temperatures in the 80's, you'll enjoy Thermopolis, WY during the summer months, from June 15th to September 15th. The elevation being around 3500 ft. means that the evening cools off nicely for a good nights' sleep.
To get to Thermopolis you will need to drive or take a bus, unless you have your own plane that can take you to the private airport. It's quite a long drive from Denver International Airport (about 7 hours) but it's a great way to see the diverse landscape along the way. Casper, WY is a closer drive if you fly into that airport, about 3 hours away.
When you arrive, you will find a number of chain hotels and smaller, locally owned motels and campgrounds. Inside Hot Springs State Park you'll find all of that, making your site-seeing trip to the Rainbow Terraces very convenient.
When you've worked up a good appetite, you'll be able to choose between a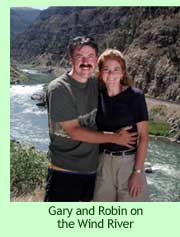 number of great restaurants. From Mexican to Vegetarian, with the obvious steak and potatoes in between, you won't go hungry.
Besides dinosaur digs and drift boat fishing, Thermopolis offers its guests a wide variety of activities. Tour an old wax museum, stay outdoors and get some exercise on the hiking and biking trails, or just sit back and relax in the mineral hot springs. Thermopolis is a friendly, laid-back town that you'll want to visit again.
Don't forget to wear sunscreen and drink plenty of water to compensate for the dry, sunny climate. And if you plan to dig for fossils, bring a hat, wear sturdy shoes, and don't be afraid to get dusty!

General Information on Wyoming
Wyoming Tourism
For a FREE Vacation Planner, call or visit us online!
800-225-5996
www.wyomingtourism.org


Thermopolis Information
700 Broadway
PO Box 768
Thermopolis, WY 82443
800-786-6772
www.thermopolis.com
thercc@trib.com

Recommended Lodging & Dining
Days Inn Hot Springs
Hot Springs State Park
800-DAYS-INN / 307-864-3131
http://www.thermopolisdaysinn.com/

Elk Antler Inn
501 South 6th
Highway 20
Thermopolis, WY 82443
307-864-2325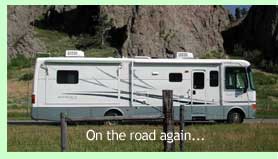 Ballyhoo Restaurant and Lounge
1025 Shoshoni Street
Thermopolis, WY 82443
307-864-9210
Overlook the Big Horn River and take in a view of Wind River Canyon as you
feast on steaks or seafood at this newly remodeled restaurant. Great
service and great food!

Pumpernick's
512 Broadway
Thermopolis, WY 82443
307-864-5151
American menu with steaks, seafood, plus specialty foods and sandwiches.
You'll enjoy the diverse menu and homemade, fresh meals.

Sideboard Restaurant
109 S. 6th Street
Thermopolis, WY 82443
307-864-5335
An old-fashioned family restaurant, great for a hearty breakfast!

Recommended Guide Service
Wind River Canyon Whitewater
Darren Calhoun
888-246-9343 (during summer)
307-486-2253 (off season number)
www.WindRiverCanyonRaft.com
email: trips@wyoming.com

Darren will instruct and entertain you on some of the best water in the
state of Wyoming.

Things to see and do

A MUST DO! Call ahead and reserve a day to dig for dinosaur fossils. The
Wyoming Dinosaur Center is set up to accommodate both children and adults.
It's an experience you won't forget!
Wyoming Dinosaur Center
800-455-DINO (3466)
www.wyodino.org
Wdinoc@wyodino.org

Visit an Old West wax museum to see the West in life-size figures, dioramas
and historic settings. Enjoy an extensive collection of early maps,
newspapers, and early graphics. Kids will enjoy the hands-on displays and
interpretive materials.
307-864-9396

The world's largest mineral hot springs is at your disposal when you visit
Thermopolis. Call the Thermopolis Chamber of Commerce for information on
all the amenities surrounding Hot Springs State Park. Swim, soak, and slide
at this year 'round destination!
800-786-6772
www.thermopolis.com